Concerned Black Men, Richmond attends the 29th Annual 2nd Street Festival 2017
October 23, 2017
The Concerned Black Men, Richmond Chapter, attended the 29th Annual 2nd Street Festival held on October 7-8, 2017  in the Historic Jackson Ward Community.  This festival celebrates the rich history and culture of Jackson Ward and it is a veritable Who's Who in  Art's,  Politics, and  Social entities throughout central Virginia. We welcomed the opportunity to inform the local community about our mentoring program for our youth.   The interaction with many city and state officials such as Chief Alfred Durham, Senator Jennifer McClellan, Delegate Delores McQuinn, among many others that are campaigning for state offices was  great exposure for our chapter.  There was also a strong interest in mentoring shown by many as well as parents wanting mentoring for their children.
The 2nd Street Festival has provided The Concerned Black Men of Richmond with excellent exposure for a number of years and we hope the relationship will continue for years to come.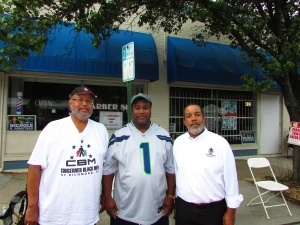 "Caring for our youth"
Click Here to learn more about The Concerned Black Men of Richmond, Inc.
Click Here to learn more about becoming a Mentor.
Click Here to see how you can support our efforts to continue to care for our youth.