Concerned Black Men of Richmond Holds Social Etiquette Class for Youth
June 9, 2019
Greetings all,
The Concerned Black Men of RVA held our "Social Etiquette: Doing it with class" activity on Saturday, May 25th.  As in the past, it was held at Ristorante La Grotta, a world class fine dining establishment in downtown Richmond.  The event was well attended even though we had to make a schedule change.  Everyone was on time, well dressed and had a great experience putting into practice what we covered earlier in the program.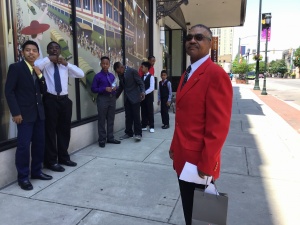 The food and staff were great as usual and most of the boys knew what to expect.   They were presented with a four course meal with a choice of entrées consisting of Salmon topped with shrimp, Veal Scaloppini and Filet of Chicken.  For dessert there was cheesecake or chocolate ice cream.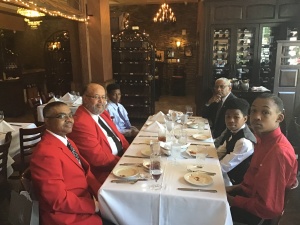 This event is a very important facet of our mission in exposing our youth to diverse cultures and enhancing life skills.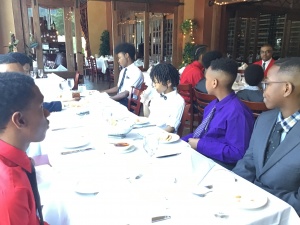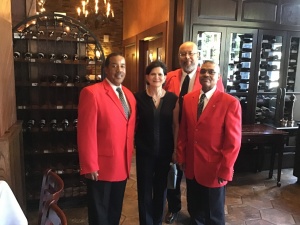 We presented Tony and Andrea Capece with a token of our appreciation for their continued support of the Concerned Back Men of RVA! They are truly special friends and their generosity is greatly impacting young men that we serve.
We would like to thank each of you for your patronage and interest in our organization as we come to the close of our program this year!  Your support enabled us to take the boys to Monticello, The Virginia Museum of Fine Arts and to the IMAX Theatre in the Science Museum!  The Concerned Black Men of RVA are looking forward to doing greater things next year and we hope that you will spread the word and continue to give assistance to us as we serve our youth.
Thank you again
Timothy Mallory
President-CBM-RVA
Click Here to learn more about The Concerned Black Men of Richmond, Inc.
Click Here to learn more about becoming a Mentor.
Click Here to see how you can support our efforts to continue to care for our youth.