Comments Off on Concerned Black Men of Richmond Conducts 1st 2023-2024 Session at the Music Box Studio
November 1, 2023
Hello everyone,
The Concerned Black Men of Richmond conducted our 1st activity for the 2023/2024 session on Saturday, October 14th.  The "Music, An Inside Look, Part II" was a lesson on history and music held at the "Music Box Studio" in downtown Richmond.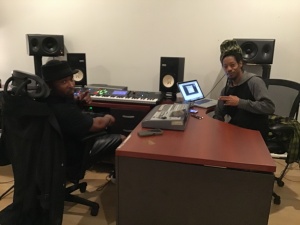 A couple of years ago, CBM had the opportunity to work with Grammy Award winning song writer and music producer Lamont Fleming.  He was instrumental in launching the career of Chris Brown and on this day, he was accompanied by producer/songwriter Dialo Moss.
The activity started with an introduction of all attendees and a brief discussion of the history of the location.
The studio on the property of the historic Barrett House was built by William Barrett, a tobacco industry business owner in the mid 1800's.
In the midst of evacuating Richmond to Union Army Forces on April 3, 1865, the Confederate Army set fire to the tobacco warehouses.  The fire spread throughout the business district and 9/10ths of it was left in ruins.  The Barret House is one of the few buildings to survive and was home of Henry "Box" Brown the famous slave who was boxed and shipped to freedom in Philadelphia Pennsylvania!
https://encyclopediavirginia.org/entries/narratives-of-henry-box-brown-the/
Next, Lamont asked everyone about their musical taste and if there were any musicians present.  Lamont and Dialo then discussed their extensive musical background and gave a tour of the studio.  Then they discussed the parts of a song and how songs are made.  The mentees then came up with a hook and verses and with the assistance of Lamont and Dialo, they arranged the song "Richmond".  After a little practice the song came to life!
We took a break for lunch that was catered by "Sweet as Sugar Homemade Desserts", that was enjoyed by all!
Finally, the boys went back to the studio and recorded their song.  It was awesome to see what these young men can achieve with a little encouragement and assistance.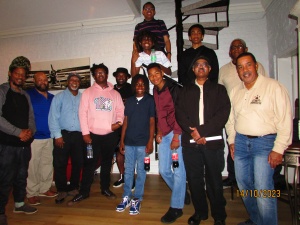 Thanks to each of the mentors and each of you for your interest and assistance in providing quality programs for the young men in our community. It means the world to our community and the youth we serve.
Sincerely,
Timothy Mallory,
President CBM-RVA
Click Here to learn more about The Concerned Black Men of Richmond, Inc.
Click Here to learn more about becoming a Mentor.
Click Here to see how you can support our efforts to continue to care for our youth.