The Concerned Black Men Richmond Held Career Choices Event for Youth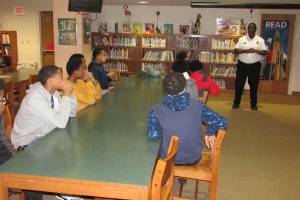 The Concerned Black Men –Richmond held their first activity of 2017 on January 14th at Linwood Holton Elementary school. Tim Mallory was the lead facilitator of the activity titled Career Choices.
This activity was designed to provide the mentees with an opportunity to interact with representatives from a variety of fields. There were speakers participants from several areas across the spectrum of career including the trades, public, private sectors, science and entertainment professions.
Six presenters addressed the youth corps.
Speakers:
Travis Preau – RVA Fire Captain,
Morris White Jr. –Physicist, Altria
Cornelius McLaughlin – Electrician, Atlantic Contractors
Dr. Harold Jones, III – MD, Eastern State Hospital
Frank Johnson – RPS Educator
Noland Burchette – Former NFL Pro Athlete / played on the Atlanta Falcons and Indianapolis Colts
Each of the participants spoke about their individual backgrounds, and what factors and people that provided motivation and influenced them to choose the paths that they ultimately chose.  They also addressed some of the requirements that had to be met in order to enter the field and also some of the challenges and rewards that they encountered along the way to achieving their goals in their chosen fields.
Click Here to learn more about The Concerned Black Men of Richmond, Inc.
Click Here to learn more about becoming a Mentor.
Click Here to see how you can support our efforts to continue to care for our youth.
See more photos from our event below: