Concerned Black Men of Richmond Kicked off 2023 with Career Choices Activity & Black History Museum Visit
March 3,2023
Greetings all!
The Concerned Black Men of Richmond kicked off 2023 with our "Career Choices" activity.  This event is conducted each year and was held on January 21st at Franklin Military Academy.
There were 5 fields represented in this year's activity: an engineer, a scientist, an entrepreneur, a firefighter and an auto mechanic.  The presenters were Lamont Benjamin, a civil engineer with the City of Richmond Public Works, Sid Cannon, a CMT (Construction Materials Testing) Laboratory Manager for Froehling & Robertson Inc., Everett Rivers, CEO & founder of Professional Security LLC, Earl Dyer, Battalion Chief / Fire Marshall for the City of Richmond and Darrell Coates, Auto Technician at Whitten Brothers Chrysler/Jeep/Ram/Dodge/Mazda.
Lamont Benjamin, Sid Cannon, Everett Rivers, Earl Dyer & Darrell Coates
Each of them shared their individual stories and the requirements of the fields that were represented.  The young men had a great time interacting with the presenters and learned a lot about how and why they chose their professions.  
The Concerned Black Men of Richmond celebrated Black History Month with a visit to the Black History Museum and Cultural Center of Virginia.  The activity was held on Saturday, February 11th.  We were given a guided tour by Mary Lauderdale tour loaded with inspirational stories that are often untold and or forgotten.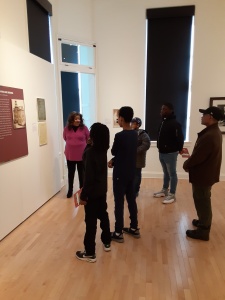 The Concerned Black Men of Richmond are working diligently to provide impactful activities for the youth in our community.
Thanks to each of the mentors and each of you for your interest and assistance in providing quality programs for the young men in our community. It means the world to our community and the youth we serve.
Sincerely,
Timothy Mallory,
President CBM-RVA
Click Here to learn more about The Concerned Black Men of Richmond, Inc.
Click Here to learn more about becoming a Mentor.
Click Here to see how you can support our efforts to continue to care for our youth.